Well, it's been quiet in the Mew world. But hey, they continue touring next week and we will review many of the shows (which should be fun)… Apparatjik – on the other hand – have done some interesting stuff recently. First of all, they have released a single that you may download for free. You need to give some contact information here first. The single contains the following tracks:
01. Antlers
02. Look Kids (Premix AA) Diskjokke A
03. 4 Can Keep a Secret If 3 of Them Are Dead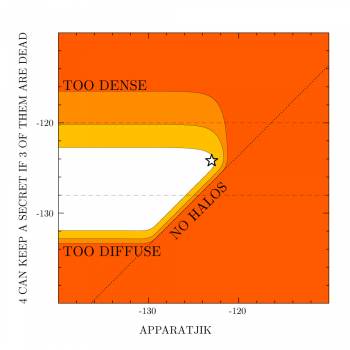 In between Mew shows, Jonas Bjerre does another Apparatjik live show as well. The second ever show for them takes place in a small town called Flø (Go with the Flø -festival) in Norway (on June 5th) where the mysterious cube will be presented once again. Here's a video clip from the first show in Berlin. This should be part of the upcoming DVD that will be released alongside the physical format of the debut album We Are Here, finally shipping on June 7th. Apparatjik are also releasing a series of Q&A -podcasts, the first episode has Jonas in a very otherworldly form. These guys are obviously having fun with this project…
*****
Maybe you are interested in checking out Jonas' official website. It has a new design and some new features as well.
*****
Are you following us on Twitter yet? YOU SHOULD!